straitjacket-oppai- and straitjacket-ear-
by Naoya Ishikawa
Information
作品名
straitjacket-oppai- 、 straitjacket-ear-
サイズ
素材
大理石、羊毛
価格
straitjacket-oppai- :50,000円(税抜)
straitjacket-ear- :18,000円(税抜)
コンセプト
拘束と変容

彫刻のなかでも石彫は拘束や変わることのない硬さが彫刻家の衝動と労働によって美に変わっていきます。拘束と解放、変容と不変。それらを作品にすることで真に強い彫刻を作りたい。今回はその彫刻を実際に人間に着せることで拘束と変容について考えました。
商品が生み出されるまで
彼は本気です。
大理石を彫る。これはミケランジェロやイサムノグチ、古代からある技法の彫刻です。彼の「拘束」というテーマから生まれる作品は、柔らかいものに包まれて閉じ込められているような独特な印象があります。大きくて重い大理石の作品を、彫刻を知らない人にも気軽に持ってもらうにはどうするか?を考えたのが今回の作品ですが、はじめは正直ふざけているのかと憤りさえ感じました。ほどけたセーターからはみ出した胸。しかし、じっくり見ました。編むという行為で出来たセーターは体を拘束します。そこから体の一部が現れている、拘束が緩む瞬間を感じます。ほとんどは羊毛でできていますが、これはれっきとした彼の彫刻作品です。彼は大まじめに本気で考えていました。頭を毛糸で拘束する帽子も同じ、そこから生えている大理石の耳は一体何を聞いているのか?ずっと見ていても飽きません。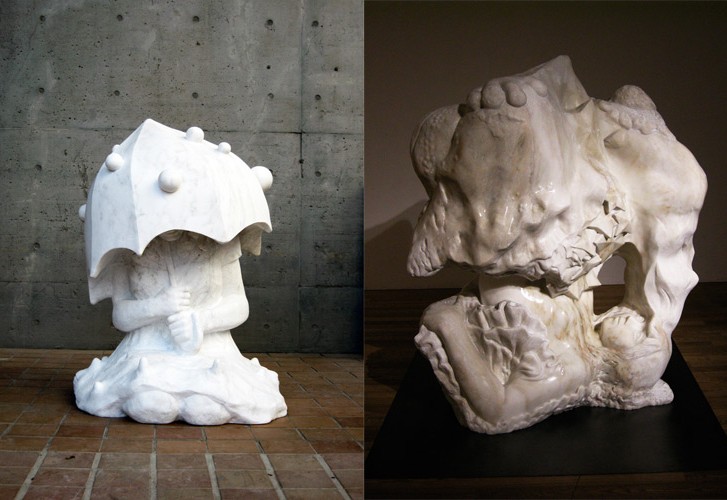 プロフィール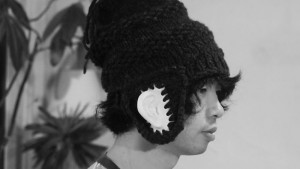 石川直也

Nationality : Japan
2012年 東京藝術大学美術研究科修士課程 彫刻専攻修了
石の彫刻を制作しています。石という素材は私がなにかを表現する上でなくてはならないものになっています。また石は私が形を作る上で最も助けてくれる素材です。おそらく私のなかに芯になるものがあるとすればそれは石なんだと思います。
website
How to enjoy my work
コンセプトは私の勝手な意思です。買っていただいた方はなにかを感じていただけたのだと思います。その後はまかせます。飾ってもよいし、着てくれたら最高にカッコいいと思います。
Information
| | |
| --- | --- |
| Title | straitjacket-oppai- 、 straitjacket-ear- |
| Size | |
| Material | Marble, Wool |
| Price | straitjacket-oppai- :50,000JPY (Exc. tax) straitjacket-ear- :18,000JPY (Exc. tax) |
Concept
Restriction and a Change in Appearance


Stone sculpture is one of the sculptures that unchangeable firmness and restriction would change into beauty with a sculptor's impulse and work. I would like to create truly strong sculpture by creating the ideas of "restriction and release" and "change and constancy." This time I was thinking over the idea of restriction and change in appearance because people actually can put on a sculpture.
Story of product
He is serious.
Chiseling marble is a technique of sculpture from ancient times, Michelangelo and Isamu Noguchi also chiseled marble. Ishikawa's work with the theme "restriction" has an impression of wrapping with a something soft. He thought about what he can do for people who are unfamiliar with sculpture but can easily hold his big, heavy marble work. This sweater is the work through of his thoughts. His first impression was honestly this is nonsense and even anger. The breast is showing from an unraveled sweater. If you see it carefully, the sweater is made by an act of knitting that restricts a body, but a part of a body appears, and appears the moment that restriction is loosened.This work is made by mostly wool, but it is still a genuine sculpture. He was seriously thinking about this idea. What are you listening to with the marble ears grew from the woolen hat which is also restricting a head? Even you keep looking at this sweater, it would not lose interest.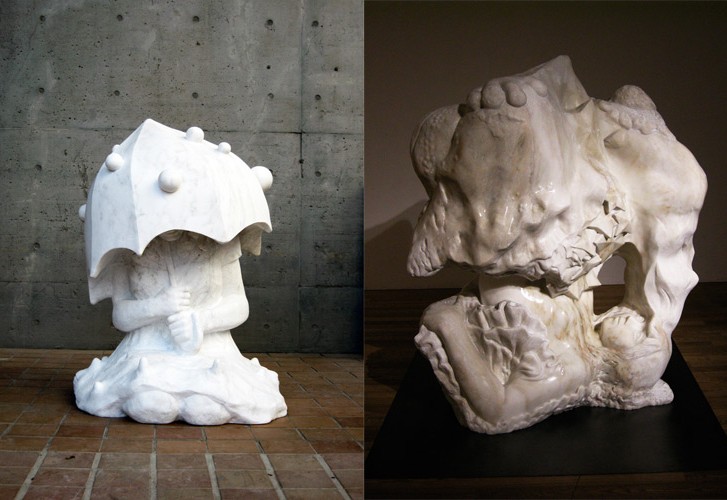 Profile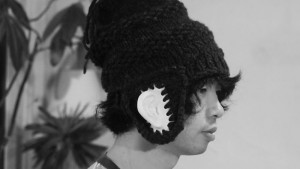 Naoya Ishikawa

Nationality : Japan
2012 BFA in sculpture, Tokyo University of the Arts.
I create a stone sculpture. Stone as material is indispensable for me to express. And stone is the most helpful material in creating a shape. If there is a core in myself, it would be probably a stone.
website
How to enjoy my work
My concept is to inspire one's intention for people who buy my work. I offer my work for whatever you would like to do, so you can decorate or wear it. If you wear it, it is absolutely cool.