Information
作品名
mischief
サイズ
P-large:65×80mm
P-small:50×70mm
L :65×80mm
素材
鉄、ステンレス(ピン)
価格
P-large:9,000円 (税抜)
P-small:8,000円(税抜)
L: 8,000円(税抜)
彼女のピアスはこちら
te te/ a c
コンセプト
シンプルな表現

複雑な人のカタチを、シンプルな線と面だけで置き換えた時の、不思議と生まれる茶目っ気のある表情に魅力を感じています。おじさんはとそれが特につよくて、作るのが楽しい存在です。
商品が生み出されるまで
鉄なのに軽そう

彼女の作品を見たとき、大きな鉄の作品なのに重さを一切感じませんでした。鉛筆で描いているような軽さで、鉄の棒を曲げて人物が描かれていました。彼女は人物のシルエットを使った作品を作る事が多いですが、ある瞬間を絶妙に切り取ります。そう感じるのは、彼女が選ぶ人物の角度によるものだと思います。曖昧な角度を取り入れてない。その動きの無さが逆に動きを連想する。勝手にストーリーを想像する。大きくても小さくても魅力的な作品になると感じ、小さなブローチになりました。ブローチの形をおじさんの顔と足にした所が彼女の視点の面白さです。今回は、ワイヤーを使った表現ではなく、細いノコギリでこつこつと鉄板を切り出して制作しました。何時間もかけて切り出し、疲れた手を休め、また切り出していく彼女の後姿が想像できます。
プロフィール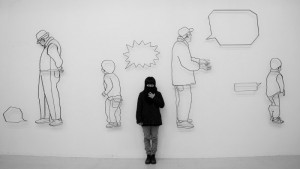 SHOPE-N

Nationality : Japan
武蔵野美術大学造形学部工芸工業デザイン学科金工専攻卒業
"works=communication tool"をモットーに、見る人に能動的に意識してもらえるような作品
を目指して制作活動中。
website
How to enjoy my work
Imagine them and go out with them !!!
Information
Title
mischief
Size
P-large:65×80mm
P-small:50×70mm
L :65×80mm
Material
Iron, Stainless(Pin)
Price
P-large:9,000JPY (Exc. tax)
P-small:8,000JPY (Exc. tax)
L :8,000JPY (Exc. tax)
Concept
Simple expressions

I feel attracted to the expression with a wonder when a complicated person's form is replaced only in a simple line and field, and the produced playfulness. Especially I feel pleasant when I create the middle age man who has charming expression.
Story of product
Looks lightly although it is iron

When I saw her work, I did not feel the heaviness although it was a big iron work.The person was created with the bending iron stick, as if it is being drawn with the pencil. She makes the work using the person's silhouette. It is cutting off a certain moment exquisitely. I think that the reason felt so is what is depended on the angle of the person whom she chooses. She does not bring in ambiguous angle in the work. A lack in the motion is conversely reminded of a motion. A story is imagined freely. Even if her work was large and small, it become attractive, and it became a small brooch. It used the form of the brooch as a middle age man's face and leg is the fun of her work. This time, it was not expression using a wire, it created by cutting down the iron. Her back shot that cut down iron for many hours, and rests and starts could be imagined.
Profile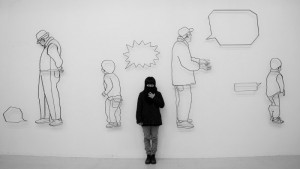 SHOPE-N

Nationality : Japan
Graduated from Musashino Art University, department of industrial, interior and craft design. Her motto is "works=communication tool". She aims to create a work which she gets those who see to be actively.
website
How to enjoy my work
Imagine them and go out with them !!!